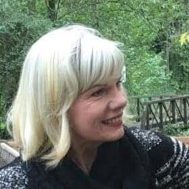 Life Events
I was born in 1950, and raised in Oklahoma. I'm an enrolled tribal citizen of the Cherokee Nation and now reside in Vancouver, Washington after arriving in 1993 from Las Vegas NV.
I have 4 kids and 5 grandkids.
I've painted for most of my adult life.
Painting is a joyful, spiritual experience and sharing it is fullfilling.
I'm self taught and started out with a natural gift for photorealistic pencil drawing. After learning a bit about art history, artists painting styles and expressions, I fell in love with color and quickly moved into abstract expressionism as my work evolved.
I discovered a way to create what I call 'Organic Mirror Images' of Spirit. My inspiration comes from the amazing images we can see in nature.
I work intuitively and most of the work has several layers of design to create movement and depth.
I've experimented with different styles and have landed on the controlled expressive flow of acrylic paint -some with oil glazes- and the circles ( 'eyes') that lends life to the work.
I've sold some but a lot of my work is on loan as art therapy in tribal offices in Vancouver, Washington.
I've been afforded an opportunity to spend the last 20 years developing my work that resides mainly within the tribal community.
My pencil drawings were shown at the Del Mar fair in San Diego  and also the International Scandinavian Film and Art Festival in Portland – SKOAL'82
I have an art project with the city to help identify for the public the Giant Sequoias in Vancouver's downtown Esther Short Park and their connection to the Cherokee Nation and the Trail of Tears. The trees represent the nation's resilency to survive the forced march from their homelands to Oklahoma.
I find pure joy being involved in these creative processes.