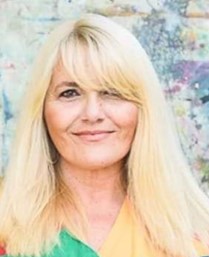 Life Events
Let me introduce myself, my name is Daniela Cinalli Rossi, I am from Córdoba, Argentina. I am a Plastic Artist, Preschool Education Teacher, Diploma in Innovation and Educational Creativity, Bachelor of Education, Visual Arts Technician, Cultural Manager, Curatorship courses. I have been painting for 30 years, 20 years of teaching and of those 20, 12 years especially dedicated to Children's and Youth Art.
2015. I presented my paper on my research on CHILDREN, YOUNG PEOPLE AND CREATIVITY at the conference on Artistic Education, Research and Interdisciplinarity at the Francisco José de Caldas University, Bogotá, Colombia.
2015. I presented the same research at the Teacher Training Conference ORGANIZED BY CONSUDEC, in Río Cuarto, Córdoba, Argentina.
2016. The CONSUDEC (Council of Catholic Education), Argentina, publishes in its monthly magazine a note signed by me on CHILDREN'S CREATIVITY.
2016. The insurance company "La Equidad" from Bogotá, Colombia, for its 50th anniversary, invites me as an international jury to a Children's and Youth Drawing Contest.
From 2010 to 2016. I was a jury in my city in national and international painting and sculpture competitions.
2017. I joined the United Nations Organization of Arts and Sciences and UNESCO. Since then, the organization has supported each of my projects, presentations, and research.
2020. Praxis Colombia Magazine publishes two of my works with an interview they conducted with me.
2011 TO 2020. I ORGANIZED 12 EXHIBITIONS OF CHILDREN'S AND YOUNG PEOPLE'S ART.
2020. I am part of the International Prism group.
2021. I devised and carried out Virtual International Exhibitions of Children's and Youth Art, where small great artists from different parts of Latin America and Italy participated.
2022. Organized virtual exhibitions for adults nationally and internationally.
From 2014 to today's date. We painted 3mt X 2mt murals with my students. We intervene walls of Schools with unique designs, we have also painted games in the patios of various Educational Institutions.
I exhibited my works nationally and internationally.
I have given interviews to the media in Panama, Colombia, Bolivia, Brazil, France and Argentina.
I have made Instagram Live with different referents of culture and education.
My painting style is landscape and abstraction. I really like the colors and the study of it. I paint with oil on canvas, acrylics and watercolors.
2022. I was the manager of the international virtual exhibition "the QUARTER OF ART" IN TRIBUTE TO LEONARDO DA VINCI AND FRIDA KHALO. Endorsed by UNOTA, United Nations of the Arts.
June 2022. By score I have been appointed President of the United Nations of the Arts for the province of Córdoba, Argentina.
July 2022. By points I have had the immense honor of being named President of the International Council of the Arts of the Argentine Republic.
2022. I was selected among 50 nominees for BEST CULTURAL MANAGER in Costa Rica. We were 14 managers awarded.
DIRECTOR OF THE ART SPACE "DR SPACE OF PAINTING".
The magazine Folium Chile publishes two pages with my works and a brief artistic review for the anniversary of Prisma Internacional.
September 2022: The UN, United Nations, ACCEPTS AND ENDORSES MY PROJECT ON THE GEO-ENVIRONMENTAL QUARTER, AND BY SCORE THEY NAME ME PRESIDENT OF THE UNITED NATIONS COUNCIL OF THE ARTS OF LATIN AMERICA.
October 2022: Travel to Coveñas, Colombia, on behalf of the United Nations of the Arts as President of Latin America, to the event organized by the Sucrea Foundation.
November 2022: Jury appointment for the 9th International Art Festival 2023 representing Argentina at the Haegeumgan Museum, Geoge, Korea.