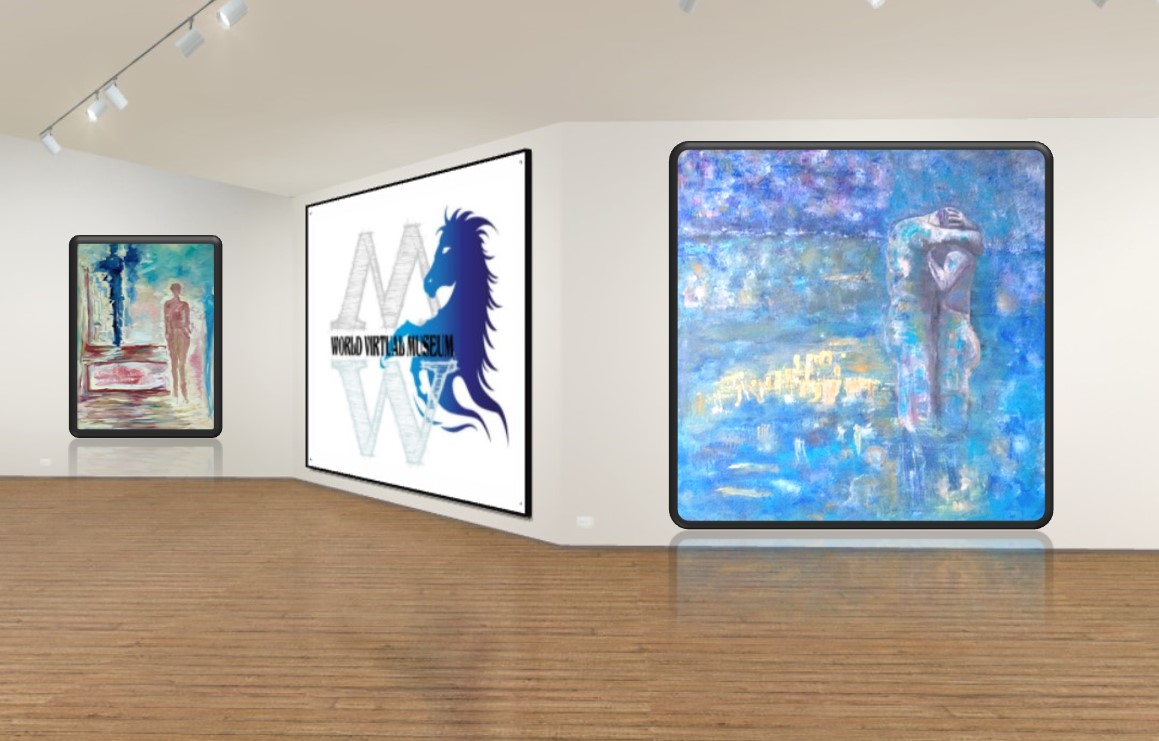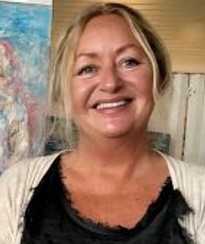 Life Events
Artist HEIDI FOSLI
NORWEGIAN who lives in Italy
* Member of the Academy of Arts Sciences Lettres, Paris (ASL)
* Honorary member of Italia in Arte, Brindisi, Italy
* Member of SNBA Société National des Beaux Art, Paris, France
* Member Friends of Royal Birmingham Society of Artists
EDUCATION (listed according to relevance):
1985 Student at Academy of Art University, San Francisco (painting & drawing)
2017 Student of Oddmund Raudberget in sculpture
1995 Cand. Mag. degree in Psychology with Social Anthropology and Sociology, University of Oslo, Norway
1982 Psychology, Logic and Philosophy, University of Oslo, Norway
1982 Mathematics, Physics and Chemistry, Bjørknes Private School, Oslo, Norway
2013 Business Economist, BI Norwegian Business School, Oslo, Norway
AWARDS:
2021 Etain Medal, Arts-Sciences-Lettres, Paris, France
2021 Plaque of Appreciation, Mayor of Jeongeup City, South Korea
2021 Certificate of Appointment, ICAF, Yukyung Art Museum Geoje, South Korea
2021 Letter of Appreciation, Mayor of Jeongeup City, South Korea
2021 Letter of Appointment Cultural Ambassador Judge ICA, South Korea
2021 Achievement Award Korea Art Fair Kim Bo Seong, South Korea
2021 Achievement Award, Korea Art Fair, South Korea
2021 Achievement Award, ICAF International Culture and Art Federation, South Korea
2021 Letter of Appointment asa Judge, ICOM International council of Museums, South Korea
2021 Letter of Appointment Mayor of Geoje, South Korea
2021 Letter of Appreciation, Yeosu Museum of Art South Korea
2019 1.Prize Contemporary Art, ArtExpo Gallery, Venice, Italy
2019 ATIM Top 60 Masters Award, Museum of Arts and Design, Manhattan, New York
2019 Artist of the Year 2019, Effetto Arte, Art Magazin, Palermo, Italy
2018 Chianciano Biennale, Chianciano Art Museum, Tuscany, Italy
2016 SNBA, Salon Nationale des Beaux Arts, Paris, France
2016 European Art Museum, Fredriksværk, Denmark
2016 Minerva Goddess of all Arts, Italia in Arte, Lecce, Italy
2016 Bronze Medal, Arts-Sciences-Lettres, Paris, France
2016 Leonardo da Vinci Prize, Effetto Arte, Palazzo Borghese, Florence, Italy
2016 Artist of the Year 2015, Effetto Arte, Art Magazine, Palermo, Italy
2015 Honorable Mention, Artists du Monde by Marina Picasso, Cannes, France
2015 David av Bernini, Italia in Arte, Lecce, Italy
2015 Anne Frank, Italia in Arte, Lecce, Italy
2015 Michelangelo International Award, Rome, Italy
2015 Mention d ́Excellence, Gallery Bogart Brussel, Gallery Artitude, Paris, France
2015 BEST Modern and Contemporary Artists Award, Edinburgh, Scotland
2015 Oscar dell ́Arte, Artexpo Gallery, Monaco
2015 Honorable Mention represented by Galerie Artitude Paris in New York S & V Gallery, Manhattan, NY, USA
2015 Marco Polo Intl Prize Art Ambassador, Venezia, EA Editore, Venice, Italy
2015 Premio Biennale Leone dei Dogi Venezia, Artexpo Gallery, Venice, Italy
2015 Peter Paul Rubens Award 2015, Italia in Arte, Lecce, Italy
2015 Trophy "Grand Prix de la Cote d ́Azur", Cannes, France
2015 Award Artistic, Contemporary Art in Vatican, Il Collezionista, Rome, Italy
2015 Sandro Botticelli, EA, Firenze, Italy
2014 Nelson Mandela Award, Italia in Arte, Lecce, Italy
2014 Raffaello Sanzio 2014, Italia in Arte, Lecce, Italy
2014 Europa in ARTE, Paris, France
2014 Palma d ́Oro (Goldpalm of Art), Montecarlo, Monaco
2014 Artistic Trophy Knights of Malta, for "stylistic value" for the painting "Maternity", Malta
2014 Art Critics Award, 6th International Art Festival, Galleria l ́Agostiniana by Galleria Il Collezionista, Rome,
Italy. Received for painting "Expectant Joy". Jury consisted of external university professors
2013 Biennale di Chianciano Certificate for Artistic Merit, Italy
2013 Premio Speciale, Galleria Il Collezionista, Roma, Italy
2013 London Art Biennale, Honorable Mention for Artistic Merit, UK
2012 Chianciano Intl Art Award Honorable Mention for Artistic Merit, Italy
2011 Biennale di Chianciano Honorable Mention for Artistic Merit, Italy
MAIN SOLO EXHIBITIONS:
2022 «All the Beauty», Palazzo Boncompagni, Arpino, Italy
2021 «Soul Creations», Yukyung Art Museum, Geoje, South Korea
2021 «Soul Creations», Daesan Art Museum, South Korea
2021 «Embrace», Lørenskog Art Society, Norway
2020 «Heidi Fosli Paintings 2014-2020», Restrospective, Tjuvholmen, Oslo, Norway
2018 "Human Society", Berlin, Germany
2016 "Human Act versus Act of Man", Trygve Lie Gallery, New York, Manhattan
2016 "Silent Emotions", Mastroianni Foundation, Arpino, Italy
2016 "Silent Emotions", Gallery Steiner, Vienna, Austria
2016 "Imagini e Sogni nelle Opere di Heidi Fosli", Vatican State, Rome, Italy
2016 «Silent Emotions", Galleria Il Collezionista, Rome, Italy
2014 "Imposed", Gallery Artifact, New York, Manhattan, USA
2012 "Bridges – Heidi Fosli Paintings 2002 – 2012", Tondinelli Gallery, Rome, Italy
MAIN GROUP EXHIBITIONS:
2022 World Art Forum, Egyptian Museum of Civilization, Cairo, Egypt
2022 Venice Art Gallery, Preludio all Biennale, Venice, Italy
2022 Tamara de Lempicka Art Show, Venice, Italy
2021 7th International Art Festival, Geoje, South Korea
2021 «3 artists 3 colours», Daesan Art Museum, Daesan, South Korea
2021 Judges Exhibition, Yeosu Museum of Art, South Korea
2020 Salon des indépendants – Art Capital, Grand Palais, Paris
2020 Haegeumgang Museum, 6th International Art Festival, Geoje, South Korea
2020 Elverum Art Society, Norway
2019 Venice Biennale, Venice, Italy
2019 The International Arsinoe Forum for Contemporary Art, Fayoum, Egypt
2019 ATIM Top 60 Masters, Puello Grimandi Gallery, Manhattan, New York, USA
2019 Artist of the Year Award – Effetto Arte, Palermo, Italy
2018 Gagliardi Gallery, King ́s Road, Chelsea, London, UK
2018 Chianciano Biennale 2018, Chianciano Museum of Art, Tuscany, Italy
2018 "Segni in Movimento", Galleria d ́Arte Consorti, Rome, Italy
2017 Spectrum Miami, New York, USA
2017 Montreux Art Fair, Montreux, Switzerland
2017 Museum of Contemporary Art, Miit, Turin, Italy
2016 SNBA, Salon des Beaux Arts, Carrousel du Louvre, Paris, France
2016 Langkawi Art Biennale, "Exploration", Langkawi, Malaysia
2016 Ashok Jain Gallery, Lower East Side, New York, USA
2016 Verona Triennale, Verona, Italy
2016 Femminissage, Dioscuri Theater, Quirinale (Presidential Palace), Rome
2015 SNBA, Carrousel du Louvre, Paris, France
2015 "Art in Palace", Galleria Farini, Palazzo Fantuzzi, Bologna, Italy
2015 Espace Art Gallery represented by Com2Art, Brussels, Belgium
2015 "Art and the Polis" Florence Biennale, Italy
2015 Galerie Artitude, Paris, France
2015 Artists of the World by Marina Picasso, La Croisette, Cannes, France
2015 S&V Gallery, through Artitude Gallery Paris, Manhattan, New York, USA
2015 GLOBAL VILLAGE icw Venice Biennale, Venice, Italy
2015 Intl Contemporary Masters, Nevada Museum of Fine Arts, Las Vegas, USA
2015 Barcelona Biennale, MEAM, European Museum of Modern Art, Barcelona
2015 Theater of Quirinale Dioscuri (Presidential Palace), Rome, Italy
2015 International Contemporary Art Fair, Conrad Hotel, Hong Kong, China
2015 FLORENCE ART- Palazzo Guicciardini Bongianni, Florence, Italy
2015 Palermo Biennale, Palermo, Italy
2014 Biennial Europe, Paris, France
2014 Italian Cultural Institute, Il Collezionista, Stuttgart, Germany
2014 La Grande Exposition Universelle, Paris, France
2014 "Synergy", Toronto, Canada
2014 Art China Beijing represented by Gallery Steiner, China
2014 Museum of Art and Science, Milan, Italy
2014 Art Monaco 2014
2014 Art Chengdu represented by Gallery Steiner, China
2013 Chianciano Biennale, Chianciano Art Museum, Chianciano, Italy
2013 Art of Mind, Gagliardi Gallery, London, UK
2013 London Art Biennale, Chelsea Old Town Hall, London, UK
2012 Chianciano Intl Art Award, Chianciano Art Museum, Chianciano, Italy
2012 Intl Art Exhibition "Spirit of Art" at MOYA Museum, Vienna Austria
2011 Lights in the winter, Old Jaffa Museum of Archeology, Jaffa Tel Aviv Israel
2011 Biennale Chianciano, Chianciano Art Museum, Tuscany, Italy
2008 Paintings at Gallery Rød, Rød Mansion for Halden Art Association, Norway
2007 Paintings at Sandefjord Art Association, Norway
Heidi Fosli is a multi-award winning professional artist with an international career living and working in both
Norway and Italy. She is represented in four permanent art museum collections in the USA, Denmark, Italy and
South Korea respectively, and also has works in the public space in Italy and Norway.
Art critic Prof. Paolo Levi argues: "Through the extraordinary use of colour, which goes far beyond just aestheticresearch, Heidi Fosli gives free heterogeneous expressive potentials that come from an internalised study."
Well-known art critic Vittorio Sgarbi writes: Fosli uses a colour in clear expressionist heritage, in keeping up with
the best Scandinavian tradition, extreme vibration itself in thick and cohesive brushstrokes, almost like Nabis.
The cold shades alternate with the warmth where ice haloes will shine with volcanic fires, in a glowing,
contrasting, sometimes disturbing, but flawless visionary balance.
Italian art historian Daniela Fraioli claims that Fosli is revolutionising Impressionism! Italian art critic and writer
Costanzo Costantini calls her a "daughter of Ibsen and Munch", and art critic Salvatore Russo says she
communicates a new language with her art!
As the first Norwegian artist in history, she received a bronze (2016) and tin (2020) medal for her work from the
prestigious academy "Arts-Science-Lettres" in Paris, and has received 35 awards and recognitions from many
countries. Heidi Fosli has had 36 solo exhibitions since his debut in 2006 and has participated in 78 collective
exhibitions worldwide. She has been selected and exhibited at the prestigious SNBA (Salon) exhibition in the
Louvre Paris, London Biennale, Verona Triennale, MIIT Museum of Contemporary Art in Turin, Museum of Art &
Science in Milan, Chianciano Biennale and Bienial Barcelona MEAM Museum for modern art. She was selected as
"Artists of the World" in Cannes by Marina Picasso (Pablo Picasso's granddaughter), where she also received an
"Honorable mention" from Picasso! She has had a solo exhibition in the Vatican City of Rome, exhibited in the
Presidential Palace in Rome, had a retrospective separate exhibition invited by the Mastroianni Museum in Italy,
and has had solo exhibitions in New York, Rome, Vienna, Oslo and Berlin to name a few. She has exhibited all over
the world. Her works have been purchased by private collectors and companies in Norway and abroad, including
the United States, Sweden, the Netherlands, England, Poland, Germany, Italy, Hong Kong, France and Denmark.
SHORT BIOGRAPHY:
I was born an artist Sandefjord in Norway, and at an early age (from 7) I enjoyed drawing. My father died in a car
accident when I was 1,5 years old. I grew up with my mother and brothers. After finishing college I moved to the
capital Oslo where I worked and studied for 3 years. I started to travel the world when I was 16, and have a
special interest for learning and understanding the different cultures. Destiny and adventurism brought me to
San Francisco where I studied art at Academy of Art University. Not until 15 years later I decided to pursue an
artist career, and had my first solo exhibition in Oslo in 2006. My goals were set, and I worked unstoppably
towards the goal always determined to reach it.
I have a natural sense for combining colours, and the compositional technique I have developed over the years.
Art critics claim that I use the colours in an extraordinary way. My innate talent for painting is the basis for my
artistic production, and I constantly challenge myself in the development of my work, and never rest. My entire
life evolves around art. My paintings are my children and my family. When I travel I always spend many hours in
art museums all around the world, and learn from the great masters. Whatever I look at I always think in the
perspective of how it would be like on canvas, and I create my compositions in my mind. I also love doing
photography for the same reason. I express myself through my art, and I have a lot to tell. Consequently my work
is narrative and symbolic. I paint from my soul and heart, and my work is very intuitive. I love to paint the
sculpture-looking human figures. Today I have been a professional "fulltime" artist for 9 years, and I am confident
that it is my mission in life to be an artist.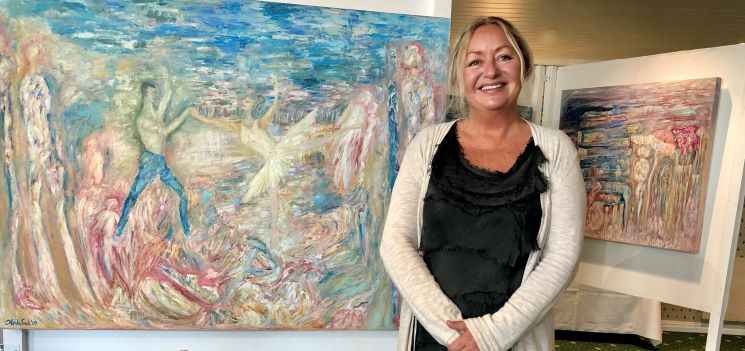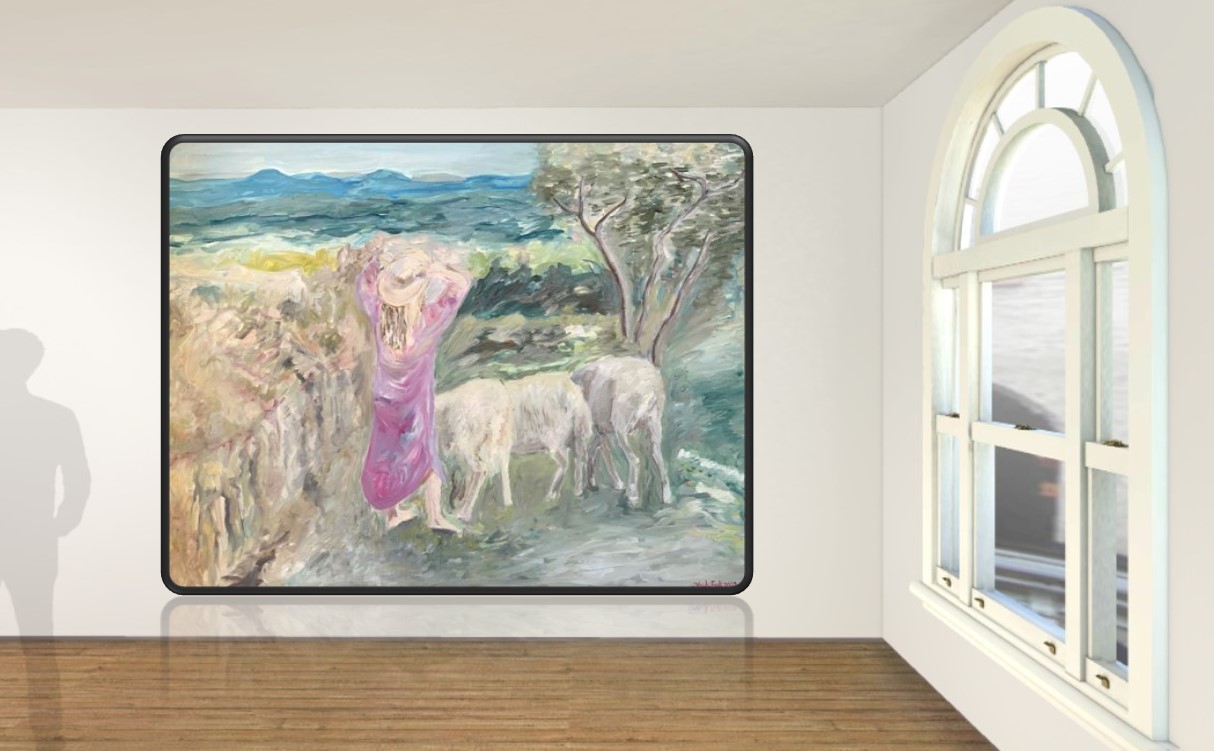 Shepherd Girl, 70 x 90 cm, oil on canvas, painted 2022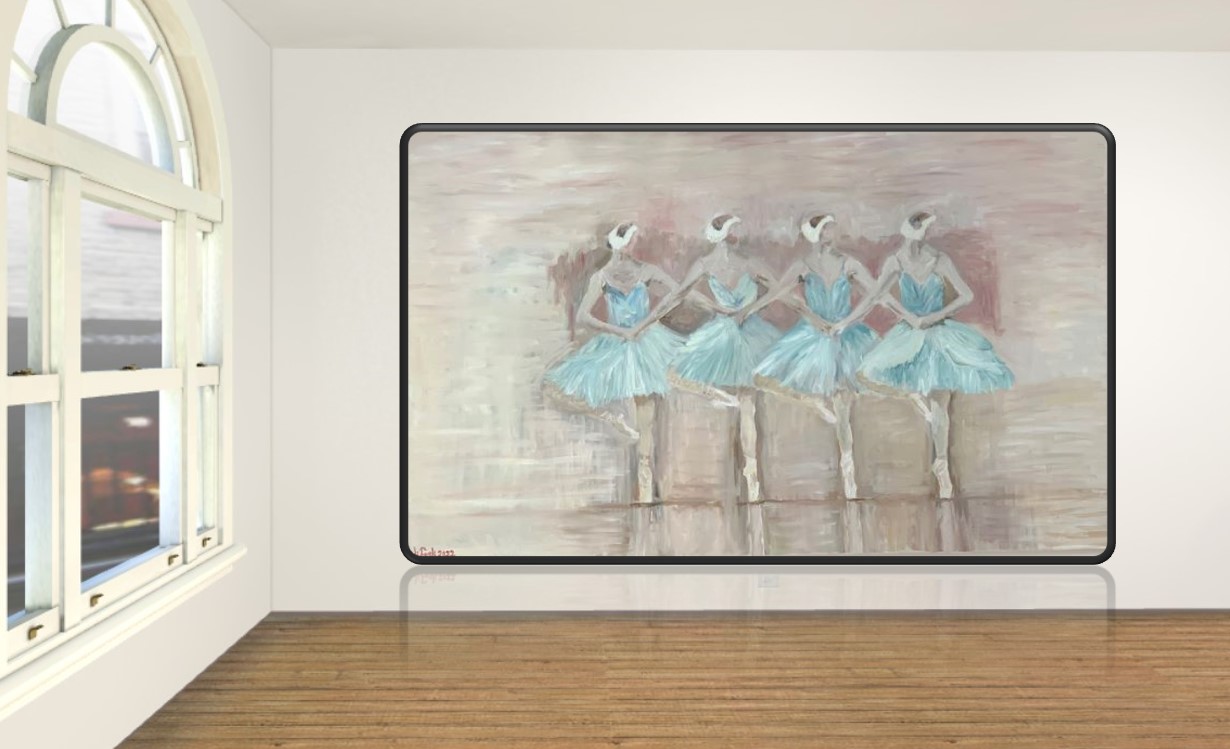 Swan Lake , 60 x 100 cm, oil on canvas, painted 2022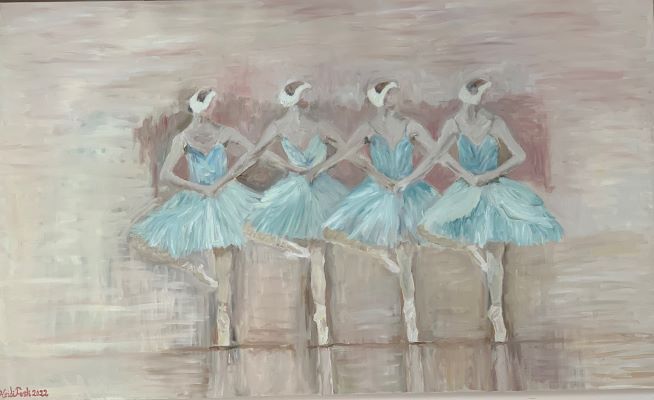 Creation of Mankind, 70 x 90 cm, oil on canvas, painted 2016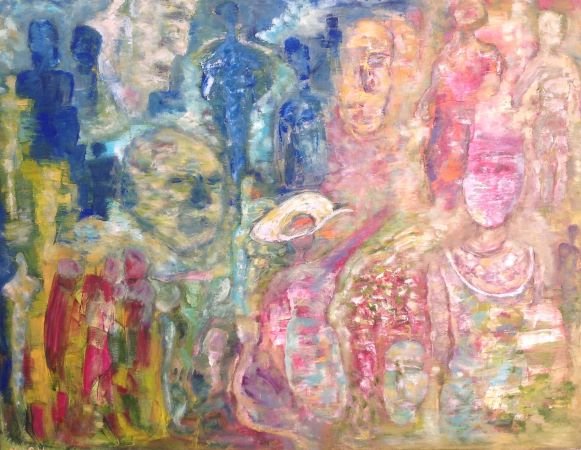 Save the Nature, 90 x 120 cm, oil on canvas, painted 2022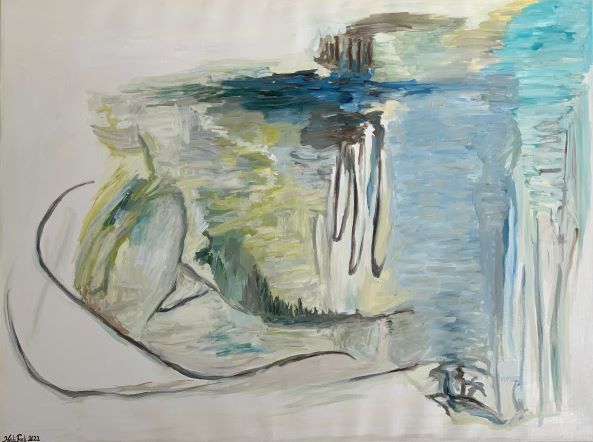 Empathy, 80 x 80 cm, oil on canvas, painted 2013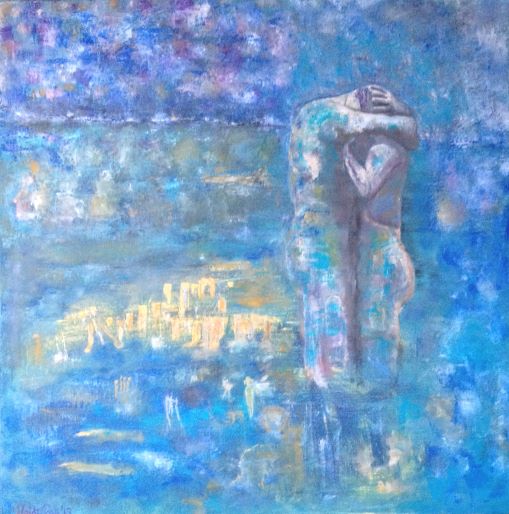 Caged, 80 x 80 cm, oil on canvas, painted 2022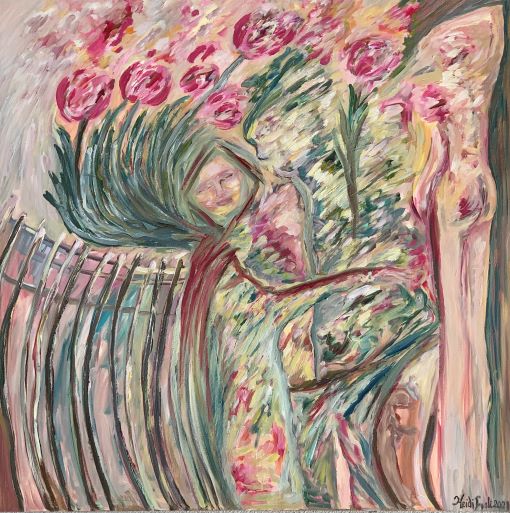 Empyrean, 80 x 80 cm, oil on canvas, painted 2022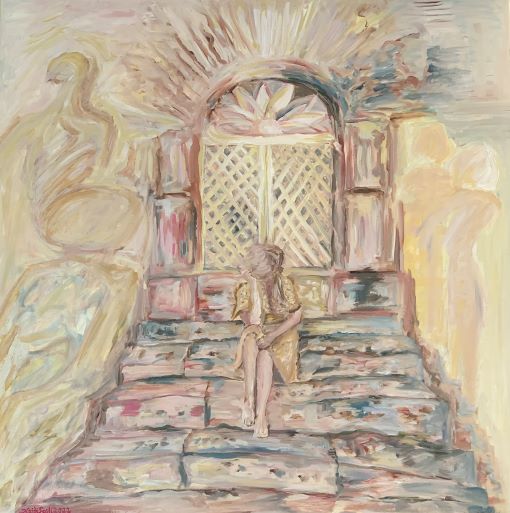 Paralyzed in Contemplation, 100 x 100 cm, oil on canvas, painted 2014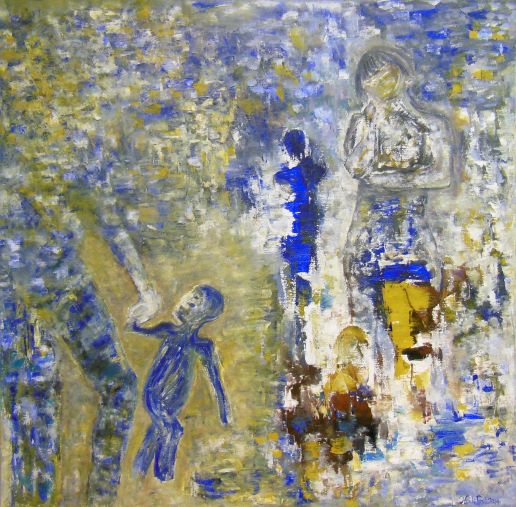 No longer here, 80 x 60 cm, oil on canvas, painted 2022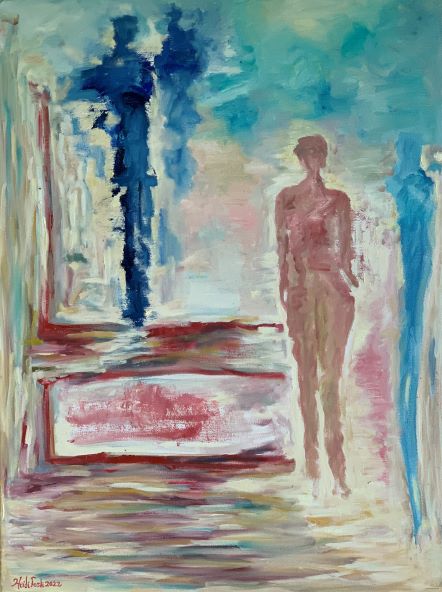 Posta Fibreno I, 60 x 100 cm, oil on canvas, painted 2022